Total Drama Around the Globe is the first season of Total Drama Roleplay.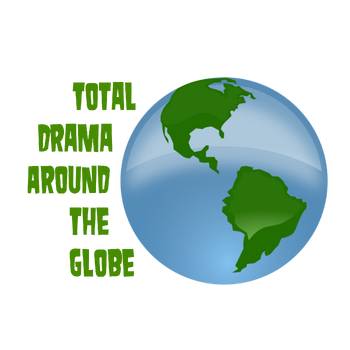 Twenty previous contestants who had signed up to be in a reality show, compete in challenges all around the world. The twenty teens are split up into three teams, the Ferocious Falcons, Hefty Hawks, and Egotistic Eagles. The three teams were given challenges every three days, on a different location around the world. The losing team would vote one of their members off and the contestant that was voted off would have to jump out the Drop of Shame. At some point in the competition, the teams would dissolve. After the merge the same elimination process would continue to happen, except then after every challenge only one to two people had invincibility and after every challenge the whole group had to vote somebody out instead of just one team. This process continued until only two contestants were left to compete in a final challenge where the last contestant standing won $1,000,000.
Contestants in the Running
Edit
Elimination
Edit
This is the process in Total Drama Around the Globe in which a contestant is eliminated; initially, the team that lost the most recent challenge, unless the last challenge happened to be a reward challenge, would vote for a contestant and the one with the most votes against them would be voted off. Since the teams eventually merged, all the contestants began to vote for each other and only the challenge winner received immunity. In the case of a tiebreaker, the two contestants would have to face off until one was eliminated.
Contestants
Edit
Episode List
Edit
These are the roleplay episodes that will be played. All chats have been recorded for archival purposes and converted into a script.
Episode
Title
Date
Time (EST)
City
Country
Eliminated
1
"Lost Angeles"
January 17, 2015
4:30 PM
Los Angeles
USA
Cody
2
"I African't Do It"
January 17, 2015
5:30 PM
Cape Town
South Africa
Lightning
3
"This Ain't No Disney Cruise"
January 17, 2015
6:30 PM
The Bahamas
USA
Duncan
4
"Cuban Craziness"
January 24, 2015
TBA
Havana
Cuba
Scott
5
"Tiki Torture"
January 24, 2015
TBA
Honolulu, Hawaii
USA
Scarlett
6
"I Aussie Got Your Back"
January 24, 2015
TBA
Melborne
Australia
Justin
7
"Oui Will Win Tonight"
January 31, 2015
TBA
Paris
France
Zoey and Shawn
8
"Stop Rome-ing Around"
January 31, 2015
TBA
Rome
Italy
Samey
9
"Big Ben of a Riot"
January 31, 2015
TBA
London
England
Sadie and Anne Maria
10
"The Peak of the Merge"
February 7, 2015
TBA
Pikes Peak, Colorado Springs, Colorado
USA
Noah
11
"Brooklyn Battle"
February 7, 2015
TBA
New York City, New York
USA
Tyler
12
"Amazonian Pride"
February 7, 2015
TBA
The Amazon, Peru
South America
Dawn
13
"It's Hot in Egg-gypt"
February 14, 2015
6:30
Giza
Egypt
Trent
14
"Yin vs. Yang"
February 14, 2015
TBA
Beijing
China
Amy
15
"Tropical Paradise"
February 15, 2015
TBA
San Juan
Puerto Rico
Dave
16
"Final Four Amigos"
February 21, 2015
TBA
Zihuatanejo
Mexico
Courtney
17
"Maori Madness"
February 21, 2015
TBA
Auckland
New Zealand
Lindsay
18
"A Chilling Finale"
February 21, 2015
TBA
Whitehorse, Yukon
Canada
Sky and Bridgette
Special
"Celebrity Manhunt's TDAG Reunion Special"
TBA
TBA
Toronto
Canada
*NOTE* It is you responsibility to make it to the episodes. Failure to show up during the episodes will lead to a risk of elimination. The host will run the episodes at the scheduled time regardless of who shows up, so make sure you be there!
Episode Guide
Edit
Episode
Air date
Challenge
Eliminated
Vote
Finish
Immunity
1
Lost Angeles
January 17, 2015
Hefty Hawks
Cody

6-1

1st Voted Out
Day 3
2
I African't Do It
January 17, 2015
Hefty Hawks
Lightning

6-1

2nd Voted Out
Day 6
3
This Ain't No Disney Cruise
January 17, 2015
Egotistic Eagles
Duncan

4-2-1

3rd Voted Out
Day 9
4
Cuban Craziness
January 24, 2015
Ferocious Falcons
Scott

4-2

4th Voted Out
Day 12
5
Tiki Torture
January 24, 2015
Egotistic Eagles
Scarlett

5-1

5th Voted Out
Day 15
6
I Aussie Got Your Back
January 24, 2015
Ferocious Falcons
Justin

3-1-1

6th Voted Out
Day 18
7
Oui Will Win Tonight
January 31, 2015
Ferocious Falcons
Zoey
2-2
7th Voted Out
Day 21
Shawn
8th Voted Out
Day 21
8
Stop Rome-ing Around
January 31, 2015
Hefty Hawks
Samey

4-1

9th Voted Out
Day 24
9
Big Ben of a Riot
January 31, 2015
Egotistic Eagles
Sadie
5-1
10th Voted Out
Day 27
Anne Maria
No Vote
Eliminated
Day 27
10
The Peak of the Merge
February 7, 2015
Tyler
[Amy]
Noah
5-5; 4-4;
Tiki Draw
11th Voted Out
Day 30
11
Brooklyn Battle
February 7, 2015
Dave
[Lindsay]
Tyler

6-3

12th Voted Out
Day 33
12
Amazonian Pride
February 7, 2015
Dave & Sky
Dawn

7-1

13th Voted Out
Day 36
13
It's Hot in Egg-gypt
February 14, 2015
Sky
[Courtney]
Trent

3-2-1-1

14th Voted Out
Day 39
14
Yin vs. Yang
February 14, 2015
Sky
[Dave]
Amy

3-3; 3-1

15th Voted Out
Day 42
15
Tropical Paradise
February 15, 2015
Courtney
Dave

3-1-1

16th Voted Out
Day 45
16
Final Four Amigos
February 21, 2015
Lindsay
Courtney
2-2; 1-1;
Tiki Draw
17th Voted Out
Day 48
17
Maori Madness
February 21, 2015
Sky
Lindsay

1-0

18th Voted Out
Day 51
18
A Chilling Finale
February 21, 2015
Sky (Sky's ending)
Bridgette (Bridgette's ending)
Sky (Bridgette's ending)
Bridgette (Sky's ending)

-

Winner
Challenges
Edit
Locations
Edit
Statistics
Edit
| Episodes | Eliminated | Bottom 2 | Mastermind |
| --- | --- | --- | --- |
| 1 | | | |
| 2 | | | |
| 3 | | | |
| 4 | | | |
| 5 | | | |
Vote Table
Edit
Total Drama: Around the Globe Voting History
Original Teams
Swapped Teams
Merged
Episode #:
1
2
3
4
5
6
7
8
9
10
11
12
13
14
15
16
17
Eliminated:

Cody

Lightning

Duncan

Scott

Scarlett

Justin

Zoey

Shawn

Samey

Sadie

Anne Maria

Noah

Tyler

Dawn

Trent

Amy

Dave

Courtney

Lindsay
Vote:
6-1
6-1
4-2-1
4-2
5-1
3-1-1
2-2
4-1
5-1
No Vote
5-5
4-4
No Vote
6-3
7-1
3-2-1-1
3-3
3-1
3-1-1
2-2
1-1
No Vote
1-0
►►
Bridgette

Cody

—
—
—
—
—
—

Samey

—
—

Lindsay

Lindsay

—

Tyler

Dawn

Amy

Amy

None

Dave

Courtney

None
—
—
►►
Sky

Cody

—
—
—
—
—
—
—

Sadie

—

Noah

Noah

—

Trent

Dawn

Trent

Amy

Amy

Lindsay

Bridgette

Bridgette

—

Lindsay

►►
Lindsay

Cody

—
—
—
—
—
—
—

Sadie

—

Noah

None
—

Trent

Dawn

Trent

Bridgette

Amy

Dave

Courtney

Courtney

—
—
►►
Courtney
—
—

Duncan

—
—
—
—
—

Sadie

—

Noah

Noah

—

Tyler

Dawn

Lindsay

Amy

Amy

Dave

Bridgette

None
Eliminated
►►
Dave

Cody

—
—
—
—
—
—
—

Sadie

—

Noah

Noah

—

Tyler

Dawn

Trent

Bridgette

Bridgette

Bridgette

►►
Amy
—

Lightning

—

Samey

—
—
—

Samey

—
—

Lindsay

Lindsay

—

Tyler

Dawn

Bridgette

Bridgette

None
►►
Trent
—

Lightning

—

Scott

—
—
—

Samey

—
—

Lindsay

Lindsay

—

Tyler

Dawn

Amy

►►
Dawn
—

Lightning

—

Scott

—
—
—

Samey

—
—

Lindsay

Lindsay

—

Tyler

Trent

►►
Tyler

Cody

—
—
—
—
—
—
—

Sadie

—

Noah

Noah

—

Trent

►►
Noah
—

Lightning

—

Scott

Scarlett

Justin

Shawn

—
—
Won

Lindsay

None
Eliminated
►
Anne
—
—

Shawn

—

Scarlett

Justin

Zoey

—
—
Lost
Sadie

Cody

—
—
—
—
—
—
—

Lindsay

Samey
—

Lightning

—

Scott

—
—
—

Amy

►
Shawn
—
—

Duncan

—

Scarlett

Justin

Zoey

►
Zoey
—
—

Shawn

—

Scarlett

Anne Maria

Shawn

►
Justin
—
—

Duncan

—

Scarlett

Zoey

►
Scarlett
—
—

Duncan

—

Anne Maria

Scott
—

Lightning

—

Samey

Duncan
—
—

Justin

Lightning
—

Scott

Cody

Dave